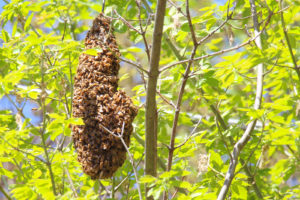 Some CDBA members will remove swarms or will provide specialized cutout services to remove established honeybee colonies from structures. [Click here for more information about differences between swarm removal and cutout services]
Honeybee swarms will generally only remain in place for hours to days before moving on to a more permanent location. Because of that, it is important to contact someone right away (phone or text messages would probably be most effective) if you wish to have a swarm removed. It might also be best to locate someone relatively close to your location using town names or zip codes as a guide, although beekeepers are often willing to travel a fair distance to capture swarms. Some beekeepers are only willing to remove swarms within specific areas and that are easily accessible (e.g., no higher than some distance above the ground).
The following table provides information about CDBA beekeepers willing to provide swarm removal and/or cutout services. There is no guarantee that specific beekeepers will agree to remove a swarm within a specific timeframe or under certain conditions (e.g., accessibility or safety concerns).
CDBA Swarm Removal and Cutout Services List
Swarm
Removal or
Cutouts
Name
Location
Zip
Code
E-Mail
Link
Phone/Text
Swarms only
Thomas Bozek
Downers Grove
60516
E-Mail
(630) 201-2545
Swarms only
John Hayse
Downers Grove
60516
E-mail
(630) 399-8082
Swarms only
Dale Kleber
Hinsdale
60521
—
(630) 280-9484
Swarms and Cutouts
Mike Maloney
Justice
60458
—
(708) 670-8041
Swarms only
Ted Mrozek

Westchester
60154
—
(708) 228-6945
Swarms and Cutouts
[Licensed by State of Illinois
to safely relocate honeybees]
Pete Soltesz
Chicagoland &
suburbs
60000
E-mail
(630) 207-4255
Swarms only
Marge Trocki
Woodridge
60517
E-Mail
(630) 853-2704
Swarms and Cutouts
Dave Brady
Chicago
60660
E-Mail
(312) 515-7375
Swarms only
Bill Gasper
Burr Ridge
60527
E-Mail
(630) 323-3960
Swarms and Cutouts
Kim Kulton
Greater Chicago Area
60181
E-Mail
(630) 926-3960
Swarms only
Robert Vear
La Grange
60525
—
(630) 207-3983
CDBA members interested in being added to the list can apply using this application form
The map below indicates the approximate locations of CDBA beekeepers who offer swarm capture services. Keep in mind that many beekeepers are willing to travel well beyond the designated circles to capture swarms! Click on circles to identify the beekeepers. Then look up contact information for your choices in the list above.
Map of CDBA Swarm Catchers!