Scroll down for more CDBA information!
Club Meetings
Meeting Updates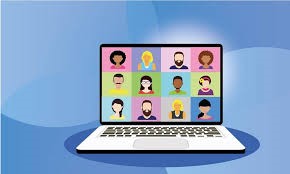 December CDBA Meeting
The CDBA had our Autumn Picnic at Churchill Woods in Lombard, IL on October 22nd. The weather was really spectacular and about 30 members turned out. We had a great time, with plenty of food off the grill and side dishes the participants brought to share. A judged contest selected a winning homemade desert — a lemon chiffonade pie with awesome honeybee decorations! There was also bee smoker lighting contest and a drawing for beekeeping-related prizes. It was great to see everyone who made it out!

Lemon chiffonade pie with honeycomb and honeybee decorations!
Due to some scheduling conflicts, we will not have a meeting in November. Instead, our next meeting is scheduled for Saturday December 3rd from 6:30 to 8:00 PM. We will have various discussion sessions, including (1) Beekeeping "hacks," (2) Top lessons you learned from the 2022 beekeeping season, and (3) an opportunity to ask miscellaneous questions. We hope you can join us!
The in-person meeting will be at Trinity Lutheran Church at 300 Ardmore Avenue, Villa Park. There is a parking lot on the North side of the church as well as street parking. We hope to see you there, but if you can't make it, you can still join virtually! A Zoom meeting link will be emailed to registered members prior to the meeting and we will do our best to "share" the meeting virtually. If you would like to participate as a guest, please contact the membership coordinator at [email protected] to get the meeting link.
Beekeeping Education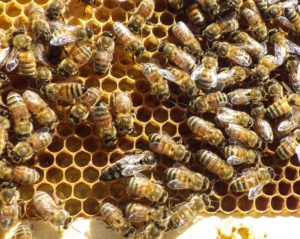 The Garfield Park Conservatory Alliance (GCPA) has invited CDBA members to join them on December 7th from 6:30 to 8:00 PM for a virtual beekeeping lecture. The presenter, Atreya Manaswi, has conducted research on small hive beetles, varroa mites, and honey bee nutrition while being mentored by Dr. Jamie Ellis at the University of Florida (UF) Honey Bee Lab and Dr. Charles Stuhl from the USDA Agricultural Research Service.
Atreya Manaswi is a 10th grade student at Orlando Science High School in Orlando, FL. He has been involved in university-level laboratory academic research since the age of twelve and has won regional, national, and international awards for his extensive honey bee conservation research. In his four years of honey bee conservation research, the USDA and UF have funded his novel research projects. The lecture is free, but If you are interested, please register at the link provided below!
The CDBA Board hopes to identify additional opportunities for meetings and presentations. If you have suggestions, please let us know by sending an e-mail to [email protected].